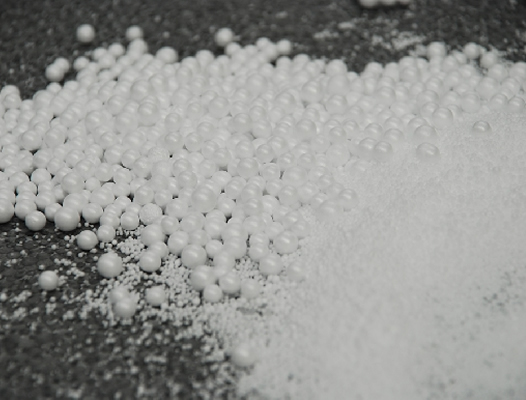 Expanded Polystyrene Rigid Foam (EPS-Expanded Polystyrene Rigid Foam) is typically white colour heat insulation material derived from petroleum, foam type, thermoplastic, closed-pore.. 

The inflating gas Pentan is used to inflate the particles and producing foam in EPS (Expanded Polystyrene Hard Foam) products obtained by inflating and fusing the polystyrene particles.After allowing numerous small pores to form within the particles, the pentane is displaced by air during production and very shortly after production. Thus, stil- air is trapped in very small closed-pore cells (3-6 billion in 1 m3 EPS) contained in the EPS plates. 98% of the material is still and dry air. 

Still and dry air is known the most economical, environmental friendly and excellent thermal insulation material. The economic and superior thermal insulation properties of EPS thermal insulation sheets are provided in this way. EPS is one of the few materials that provide the best thermal insulation in the world and is the only material that provides the same performance more economically than other thermal insulation materials used in our country.

Despite its superior technical characteristics, non energy-intensive production is another important reason to be economical. In addition to the effective mechanical strength, the replacement of the blowing gas with air in a very short time ensures that the performance of the product remains constant throughout its useful life. Thickness does not diminish, thermal conductivity does not increase, no deterioration of properties does not occur. 
During the final production stage of EPS is forming (molding), it is ensured that the particles are firmly fused with each other. The success of this process is found out from the image of the particles on the surface of the product, in the form of a honeycomb. 

The EPS is produced at the desired densities.Due to this specification of production,, it does not cause material waste and unnecessary cost increases. EPS plates, generally used at 15-30 kg / m3 density for insulation purposes, can be produced as composite elements which are coated with other materials. 

EPS is environmental friendly at every stage; does not damage the ozone layer, does not cause climate changes, does not require energy intensive production, and is high ratio recycling material.  

EPS products which are in the form of sheets, pipes or preformed elements are used extensively in the heat and sound insulation of the constructions and in the packaging industry. Additionally, EPS products can be used as wall materials in buildings, the insulation of cold air warehouses, the construction of roads in cold regions, the reinforcement of floors, the production of lifebuoys for lifeboats. There is unlimited use in all applications where lightness, strength, easy shape, easy application and low thermal conductivity are important.